Last Sunday I wanted to bake a cake. I've had this idea bouncing around in my head for a few days, since my sister mentioned it. Pumpkin and coffee and spice, like that famous latte. I made my way to the store, bought everything I needed and then sat down in front of my computer to try and work out the particulars of the recipe. I typed "Pumpkin Cake" and then closed my laptop.
Last fall I was walking through the grocery store when I saw a bottle of ginger beer. It's label was bright orange with beautiful calligraphy. I put it in my cart and started formulating ideas. I could reduce it down and make a glaze! I could add some to a pot of soup and see how that would taste.
By the time I got home I'd talked myself out of creating anything new with that ginger beer. I stuck in a cabinet and forgot about it.
So goes the last 3 years of my life.
This is scary to talk about and it makes me feel vulnerable but here's the thing: I want to bake stuff and I want to share it again. So I need to share this first. The last three-nearly-four years have been thread through with anxiety and depression and grief. It stripped me of my ability to create and some days even my ability to think clearly. It's darn near impossible for me to work up the energy to artfully drizzle caramel and photograph it when I feel bad. Lately though, the urge to return to this space has been stronger than ever.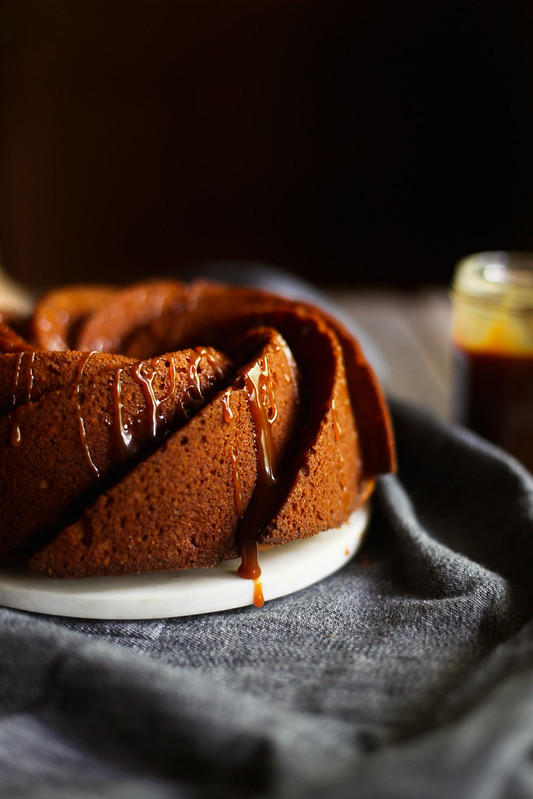 I woke up this morning thinking about that cake again. I wanted to bake it and photograph it and share it with y'all. I started talking myself out of it again.
No one reads blogs anymore! What if your pictures suck? Maybe you should just go back to bed.
But I didn't! I tied on my apron and got to work. I cut my finger twice on the can of pumpkin and I spilled sugar all over my kitchen floor but I baked this cake and it's delicious. That feels a bit like a victory. They say you can't go home again but maybe you can
blog
again. I want to talk to you about recipes and the seasons and (feeling like) failing at being a cookbook author and plenty of other stuff. First, let's talk about this cake in particular.
It's a play on that old favorite, the pumpkin spice latte. I put some espresso powder in with the cinnamon, ginger and nutmeg and I made a coffee caramel sauce that I want to pour on absolutely everything from now on. I baked it in my fancy swirl bundt pan but I think it would make a really great layer cake frosted with spiced cream cheese and drizzled with the sauce too.
Coffee & Spice Pumpkin Cake with Coffee Caramel Sauce
For the cake:
2 cups all purpose flour
1 tablespoon espresso powder
2 teaspoons baking powder
1 teaspoon salt
1 teaspoon ground cinnamon
1 teaspoon ground ginger
1/2 teaspoon ground nutmeg
1 1/2 cups pumpkin puree
3 large eggs
3/4 cup vegetable oil
1 cup brown sugar, packed
3/4 cup granulated sugar
Preheat oven to 350 degrees. Butter a 10 cup bundt pan and set aside.
In a medium bowl, whisk together flour, espresso powder, baking powder, salt and spices.
In a large bowl, whisk together the pumpkin puree, eggs, vegetable oil, brown sugar and granulated sugar. Stir in flour mixture until just combined.
Pour mixture into greased bundt pan and bake until a toothpick inserted into the middle comes out clean, 45-50 minutes. Allow to cool in pan for 10 minutes before turning out and allowing to cool completely.
While the cake is baking, make the coffee caramel sauce:
1/2 cup heavy cream
2 teaspoons espresso powder
1 cup granulated sugar
1/2 cup water
2 tablespoons butter, softened
a pinch of salt
Warm the heavy cream slightly and stir in the espresso powder. Set aside.
In a heavy sauce pan, stir together the sugar and water. Heat and stir until the sugar dissolves. Stop stirring and bring to a boil. Allow to boil until it turns amber in color. Remove from heat and slowly pour in the warmed cream, stirring as you do. Be careful, it will bubble up! Stir in the butter until melted. Allow to cool slightly and pour over cake.